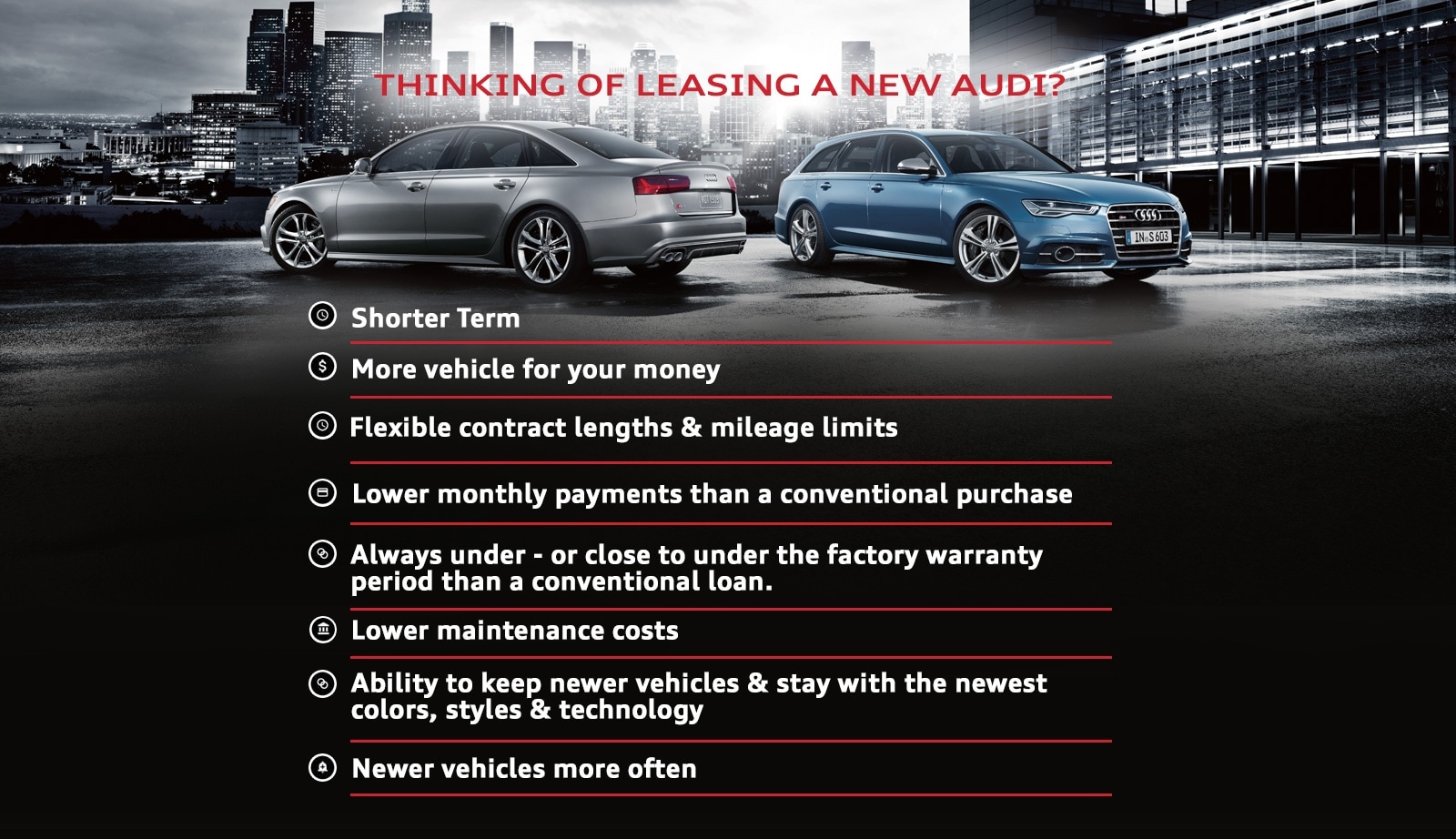 The Advantages of Buying Vs. Leasing Your New Audi Vehicle in Kirkwood, MO
We offer a variety of financing options for the Audi models in our new inventory. You can lease your preferred vehicle, or you can own it outright with the help of a loan. But there are important nuances between buying and leasing a vehicle, and knowing these differences can enable you to make a smart financial decision that works to your benefit. Foremost, let's talk about purchasing a new vehicle - after all, we have a complete model lineup of new Audi cars and SUVs in stock in our inventory in Kirkwood, Missouri. The advantage of buying your car is that you put equity into it. In other words, your Audi has a resale value, and you can trade it into a dealership like ours or sell it privately. Even though equity diminishes over time, a good rule to follow is the longer you plan on keeping your vehicle, the more owning instead of leasing it makes sense. Leasing a new Audi, on the other hand, is essentially a multi-year rental plan. Advantages of a car lease include paying less money up front for a down payment, on average, plus the ability to turn in your vehicle at the end of the lease period with no loss of equity. Of course, leasing has its restrictions, including mileage limits and stern timelines for ownership. A good rule to follow regarding Audi leases, therefore, is that if you plan on owning the vehicle for a shorter time period, a lease is superior to purchasing the car outright. So who benefits from leasing or buying a new Audi? Families who plan to hold onto a car and drive it regularly will benefit from ownership over leasing. Owning an Audi means a family needn't worry about mileage limits, and it can keep the car within the family for several years, perhaps one day passing it down to one of the children. Meanwhile, business professionals who commute to work and appreciate the latest automotive designs and technologies will benefit more from leasing their Audi models. After all, a lease is perfect for drivers with busy lifestyles who don't want to worry about trading in or reselling their cars and want to avoid losing equity when they upgrade vehicles every couple of years. The most important aspect of the leasing versus buying debate, however, is that the choice is based on your situation, specifically including your driving needs, lifestyle, and financial realities. For help determining whether a lease or loan is the right financing option for you, contact us at Audi Kirkwood and speak to a finance professional today.
New Audi Inventory & Pre-Owned Car Sales at Audi Kirkwood
If you are considering leasing a new Audi car or SUV, you will be pleased to learn that our new inventory has a full selection of the latest luxury and sports car models from this automaker available today. In fact, drivers across Missouri come to Audi Kirkwood because we provide them with a variety of new vehicles that is nearly unmatched elsewhere. Even more, we focus on carrying larger lineups of the particular Audi sedans and crossovers that local drivers most benefit from driving. These models include the A4, A6, A3, and A7 Sedans and the Q5 and Q3 Crossover SUVs, and all of these vehicles have multiple-terrain performance capabilities, including traction control, that are ideal for handling the year-round driving conditions in Missouri. However, our used inventory features a selection of Certified Pre-owned Audi models and other used vehicles that accommodate a wide range of driving needs and budgets. And just like our new Audi vehicles, our finance center offers excellent used car loans to make financing a pre-owned vehicle quick and convenient, especially for qualified buyers who apply for pre-approved credit. Whether you decide to buy or lease a new Audi model or purchase a CPO or used vehicle, we have the extensive inventories and financing solutions available at Audi Kirkwood to take care of you. Visit our dealership in Kirkwood today to discover why customers travel across Missouri to come and do business with us.